If you compare the TEVO Tornado to the Creality CR-10S, you'll see that they have a lot in common. Deciding between them can be a little difficult once you look past the cosmetic differences. But we're going to dig deeper to help you choose the best one for your projects. Similarly, here is another comparison of two 3d printers, one of them is creality, which is also popular.
TEVO Tornado 3D Printer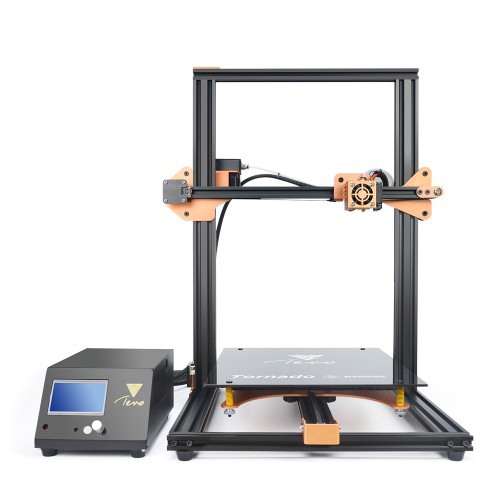 The TEVO Tornado has an impressive maximum build size of 300 by 300 by 400mm. But it doesn't only print large objects; it also creates them with a fine resolution down to 50 microns. That's better than the Creality CR-10S offers.  And you won't have to wait long for it to finish the job since it can print at up to 200mm per second.
Part of what makes the TEVO Tornado powerful and precise is its Titan extruder, a print head similar to ones found on more expensive 3D printers. This particular print head heats up to 260 C to handle a wide variety of filament types, from ABS and PLA, to TPU, Wood, PETG, and more.
The print bed is also heated up to 110 C to ensure good adherence, which is key to producing perfect prints. And the Tornado is no slouch with precision, either. Its positioning is accurate down to 0.012mm for the X and Y axes, and down to 0.004mm for the Z, or vertical axis.
When the Tornado arrives, it requires minimal assembly. And it's compatible with Windows, Mac, or Linux computers. You can use the included USB cable to connect your computer, or use a TF card to transfer object files for printing. The Tornado accepts the .STL format from GCode.
More features of the TEVO Tornado 3D Printer:
Accepts 1.75mm diameter filaments
Certified CE, FCC, and ROHS
Measures 560 x 600 x 620mm and weighs about 31 pounds
3D Printer Creality 3D CR-10S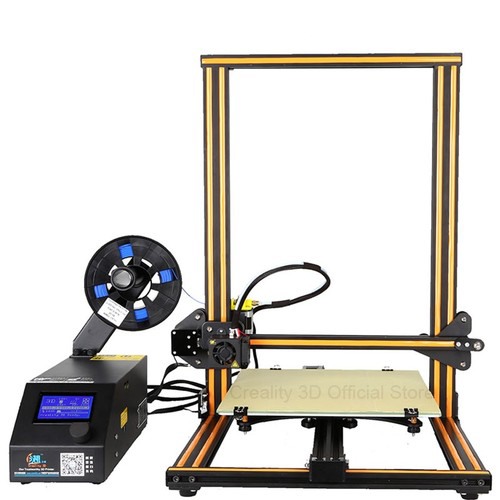 On the surface, the Creality CR-10S has the same design as the TEVO Tornado. It's also quite similar to the CR-10 from Creality. But the CR-10S improves Z-axis printing stability by including a rod with dual leading screws. That's important when this 3D printer has such a large build volume of 300 by 300 by 400mm.
Next, large prints take time to complete, and sometimes the filament runs out mid-project. But the CR-10S has a filament runout sensor that detects when the printer needs a refill. And this printer can run up to 200 hours straight and still operate correctly.
The combination of metal and precision injection-molded parts ensures that the CR-10S prints accurately down to +/-0.1mm on all axes. And that's even at the top printing speed of 200mm per second.
When you receive the Creality CR-10S, you'll need to do a little assembly. The manufacturer says it might take ten minutes to complete, but some owners report needing up to an hour. The difference might be whether you have worked with 3D printers before and if you have the software ready to use on your computer.
As for slicer programs, the CR-10S is compatible with several including Rhino 3D, 3D Max, Solid-works, PROE, and UG. And it accepts JPG, G-Code, OBJ, and STL files. Just connect your computer or use an SD card.  You can also control the printer through the cloud with a mobile app.
And the CR-10S also allows you a great degree of creativity because it can handle a wide variety of filament types, from PLA, TPU, Wood, Copper, and more. And you can swap the extruder head for a smaller size, too.
More features of the TEVO Tornado 3D Printer:
Accepts 1.75mm diameter filaments
Standard MK10 nozzle diameter is 4mm but is interchangeable with 0.3mm and 0.2mm
Recommendation
Again, it's a tough choice between these two similar 3D printers. The Creality CR-10S has an advantage in that it has a filament runout sensor. That way you don't have to keep checking on your print to make sure it still has sufficient material for printing. You might prefer this printer if you frequently produce large objects.
Meanwhile, the TEVO Tornado has better resolution and accuracy than the CR-10S. If precision and smooth prints are important to you, you may prefer the Tornado to the CR-10S.
Click here to Check Out Creality CR-10S Lowest Price on AliExpress.com!