There are many wireless routers on the market, including several similar models from companies like Tenda. It may seem daunting to have to choose between them, but today we're going to narrow down the choices to help you decide.
Tenda AC6 Wireless Wi-Fi Router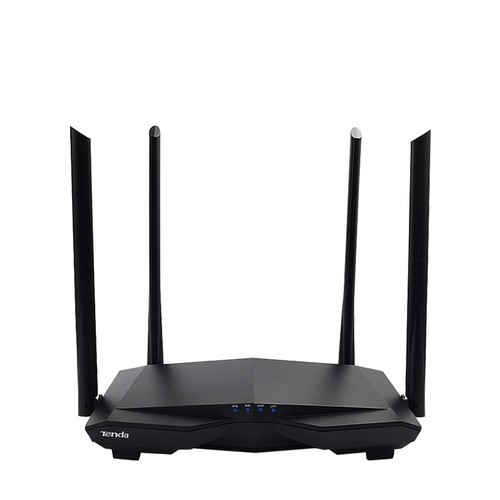 Let's begin with the Tenda AC6, a wireless router with 1200Mbps throughput. But exactly what does that mean?
First off, there are two frequencies that the router uses simultaneously. Those are the 2.4GHz and the 5GHz bands. A lot of older devices use the 2.4GHz band, which has a maximum transmission speed of 300Mbps. And newer computers, tablets, and phones often use the 5GHz band, which has a top speed of 867Mbps on this router. Add those two numbers together, and you get about 1200Mbps.
Next, the AC6 has support for a variety of wireless standards, like 802.11a, ac, b, g, and n. And it also accepts several different encryption protocols, like WPA-PSK, WPA2-PSK, WPA2, and WPA (but not WEP, which some of the first wireless devices used). All these facts simply mean that the AC6 router is compatible with most of the mobile devices around your home, from PCs and game consoles to smartphones and tablets.
But you don't have to stick to Wi-Fi to use the router to get online. It also has three Ethernet ports that offer 100Mbps.
Besides serving as a router to send a wireless signal throughout your home, the AC6 can also serve as an access point, as a repeater, a DHCP server, and in WISP mode. And linking devices like a printer or a repeater to it is as easy as pressing one button. You won't need to type in a password because the AC6 supports WPS that automatically sets up the encryption for you.
Finally, if you look at the software features that the Tenda AC6 offers, you'll see that you can set up some useful options like a network for visitors and parental controls, too. You can also use the AC6 as an FTP or Samba server to share files on your home network. And it can also work as a printer server and a VPN server, too.
More features of the Tenda AC6 Wireless Router:
Covered by a 1-year warranty
Comes with a power adapter
No USB ports
Has four 5dBi antennas
Tenda AC9 Wireless Wi-Fi Router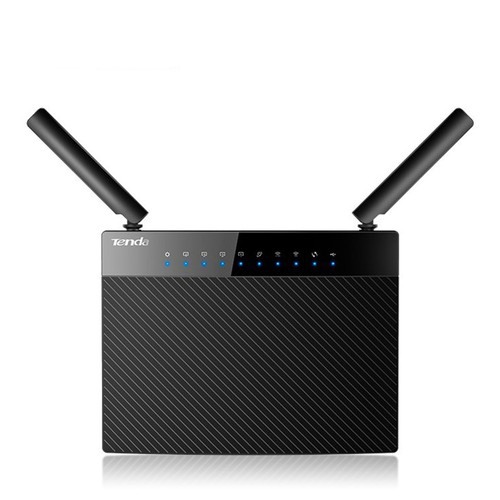 The Tenda AC9 has only two antennas, not four like the AC6. But that's not the only difference between them. The AC9 has one USB port and four Ethernet, or LAN ports. That gives it much more flexibility as a file or print server.
Those LAN ports have Gigabit speeds, and that's 1000Mbps, much faster than those on the AC6. And the USB port lets you plug in an external hard drive or pen drive to share videos, music, and books on your home network. Since you can use either Samba or FTP protocols for sharing, that means practically any device will have access to your files.
Other than those three differences, the Tenda AC9 and the AC6 are quite similar. For example, they both broadcast on the 2.4GHz and 5GHz frequencies at the same time. And their top speeds are 300Mbps for the 2.4GHz band and 867Mbps for the 5GHz band. Plus, they support 802.11a, ac, b, g, and n, as well as WPA-PSK, WPA2-PSK, WPA2, and WPA.
When you want to connect a wireless printer or a Wi-Fi repeater, all you need to do is use the WPS button. That triggers a process that automatically links the devices without you needing to enter a password.
If you configure the router's software, you can set up a network for visitors to use without giving them access to your home's private Wi-Fi communication. And you can also arrange parental controls to filter access to questionable sites online.
More features of the Tenda AC9 Wireless Router:
Covered by a 1-year warranty
Has two 3dBi antennas
Comes with stand, power adapter, and Ethernet cable
Tenda AC10 Wireless Wi-Fi Router
The Tenda AC10 reverts to the four-antenna design of the AC6 router. It doesn't have any USB ports, but it has three Gigabit Ethernet ports. It also has the higher transmission speed of the AC9. That means it offers up to 300Mbps on the 2.4GHz band and up to 867Mbps on the 5GHz frequency.
In fact, the AC10 has Tenda's Beamforming+ technology that improves the strength of your wireless signal even through walls. That way you don't lose the power of your fast fiber-optic Internet connection. The AC10 also integrates MU-MIMO technology that keeps transmission speeds high even when multiple devices are using the network at the same time.
Finally, if you install the Tenda app, you can configure the AC10 router with your tablet or smartphone. The various options include setting up a VPN server with L2TP, PPTP, or IPSEC to surf the web privately. You can also set up parental controls and filters, plus a visitor network. Or you can manage power saving features of the router, too.
More features of the Tenda AC10 Wireless Router:
Covered by a 1-year warranty
Has four 5dBi antennas
Tenda AC15 Wireless Wi-Fi Router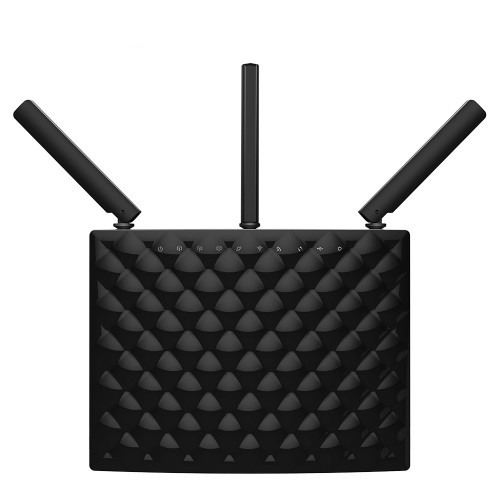 The Tenda AC15 leaps forward with faster transmission speeds. While the 2.4GHz band is topped out at 300Mbps, the 5GHz band is blazing fast at 1300Mbps for devices that use the ac standard, or 600Mbps for devices using n. This high-velocity signal transmission is ideal if you game online or stream Ultra HD video. If your hardware and Internet connection can handle it, you won't have lag time or buffering at all.
Even with the high speeds for newer devices, the AC15 maintains backward capacity so older computers and tablets can connect, too. It offers support for 802.11b and g connections, as well as a variety of encryption standards.
While the 3dBi antennas don't spread the Wi-Fi signal as far as the 5dBi antennas on the AC10 do, the AC15 is still a powerful router for home use. It also has the Beamforming+ technology to penetrate walls just like the AC10.
If you wanted to use your router as a file server, the Tenda AC15 comes with a USB 3.0 port to connect an external drive. And the router software lets you configure it for sharing over Samba or FTP. In fact, you can use the Tenda app on your phone to make the changes. Or you can connect a printer, too.
The same app lets you arrange a guest network for visitors with whom you won't need to share your home network's password. Plus, you can create a VPN or Virtual Private Network. And you can set up filters to block unsavory sites online or control hours that the router gets online.
But if you prefer a wired connection, the AC15 has three Gigabit LAN ports that offer up to 1000Mbps connections, too.
More features of the Tenda AC15 Wireless Router:
Covered by a 1-year warranty
Comes with power adapter, stand, Ethernet cable, and install guide
Broadcom dual-core processor and DDR3 RAM
Tenda AC18 Wireless Wi-Fi Router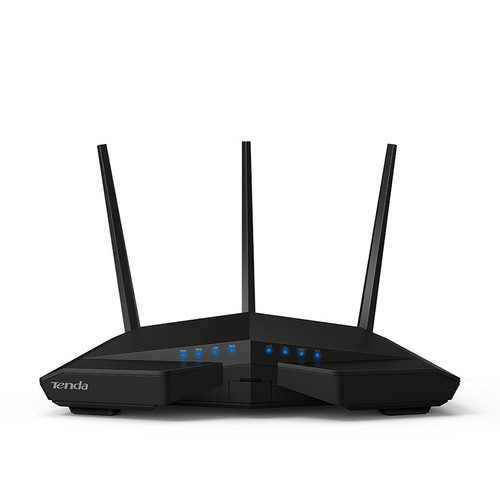 Our final pick is the Tenda AC18, and it's a step above the AC15 in performance. But that incremental increase happens mostly behind the scenes. The only outward difference is the addition of one Ethernet, or LAN, port.
Inside the router, though, you'll find an upgraded processor and faster memory. But that hardware doesn't change the basic operating specifications of the AC18 when compared to the AC15 on paper. They both offer very speedy Wi-Fi that penetrates walls because of the Tenda Beamforming+ technology. And they support speeds up to 1300Mbps on the 5GHz band, or up to 600Mbps on the 2.4GHz frequency.
But the antennas and the Beamforming+ on the AC18 router can cover up to 500 square meters, or almost 600 square yards. That's a lot of power! In fact, the Tenda company recommends the AC18 for commercial settings, not just home use.
Of course, if you prefer a wired connection, the AC18 has 1000Mbps ports that offer a simple and speedy way to connect a smart TV, PC, or game console.
And the single USB 3.0 port is ideal for when you want to use your router as a file server. Connect a USB drive and use the Tenda app to set up FTP, UPnP, or Samba. The app also allows you to control power-saving functions, arrange a printer server, or create a VPN to protect your browsing from prying eyes.
Finally, the AC18 router is also capable of other functions like DDNS, DLNA for streaming media, and IPTV to monitor cameras.
More features of the Tenda AC18 Wireless Router:
Covered by a 1-year warranty
Comes with AC adapter
ARM Cortex-A9 CPU and 256MB DDR3 RAM
Recommendation
Obviously, if you want the fastest router with the widest coverage, you're going to buy the Tenda AC18. It has the most features as well, and the most flexibility. Whether you want to manage wireless cameras, print files wirelessly, share files over your network, stream video, or simply connect to the Internet, the AC18 is the best choice. But your experience will also depend on whether you have the latest hardware and devices to enjoy the capabilities of the AC18.
But if you have last year's phone and a computer from a few years ago, you can save money by going with one of the other Tenda routers, like the AC10 or AC9. But if you have a larger home, it might still be worth it to upgrade to the AC15 or AC18 since they have the Beamforming+ technology.
If your devices are older still, or you have a small apartment, you can save more by getting the AC6 or AC9 routers. The AC9 has the advantage of a USB port that lets you use it as a file server. And the AC6 has a broadcast area up to 100 meters indoors.
Now if you're set on turning your router into a media server to stream music or videos over your home network, avoid the AC6 and the AC10 as they lack USB ports, which complicates things.
Finally, while all five routers have WPS buttons to link a printer or a repeater quickly, the three newer routers can be configured with Tenda's app. You won't have to connect an Ethernet cable from your computer to the router to change the settings. Instead, you can control everything from your phone or tablet.